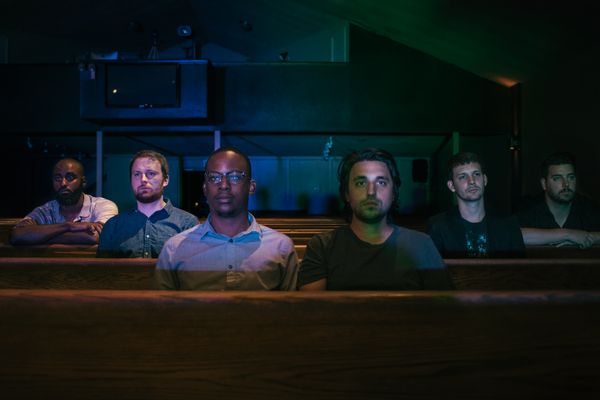 The BoomBachs combine hip-hop, jazz, and rock in a way that can only be described as Space Gospel. This term originates from the band's desire to explore beyond the usual chord progressions and lyrical content, to pursue the less explored areas of each genre it draws from. Often compared to The Roots, RH Factor, Muse and A Tribe Called Quest, the group from Denton (TX) combine neck-breaking rhythms with epic soundscapes to create a sound they can truly call their own. This 7-piece band of brothers believes that being in sync personally brings them to a higher performance level, and is evident as they interact on and off stage. The tone of The BoomBachs ranges from uplifting to psychedelic, and tackles topics such as politics, love, existentialism and intergalactic motifs. The BoomBachs believe in taking hip-hop in a musical direction.


Whether in the intimate confines of a house show or the stage of a festival The BoomBachs bring a big sound that intertwines soulful and often complex lyrics with high energy performances that leave their audience in constant suspense. They aim to achieve musical mastery in any context or situation. From Texas to Canada this group of people come from all over North America and bring their dynamic range of influences with them. A composition project at the University of North Texas brought them together for the first time, but when it comes to writing music they strive to let their creativity take control.

During the past four years The BoomBachs have been developing and honing their craft by writing, performing, recording, mixing, and mastering their own music. The BoomBachs believe any skill can be learned and this DIY mentality has been proven from their first EP to their current release AlienNation. Leading the evolution of hip-hop they believe that bringing musicality to a genre known for loops and samples is what sets them apart. From inspirational songs that dive deep into personal experience to songs that ponder outer space The BoomBachs play their heart out every chance they get and leave it all on the stage.